Prayas JAC Society, a national level, child, youth and women community based non-profit service delivery organization is directly accessing marginalized, vulnerable, destitute, deprived, trafficked and run-away & missing children including marginalized women, youth and homeless people since 1988. Presently, run by 601 professionals, Prayas directly serves day to day nearly 40,000 beneficiaries, carrying out intensive care outreach programs for the children, youth and women through Centres/Units in 10 states/ UTs in Delhi, Bihar, Assam, Arunachal Pradesh, Andaman & Nicobar Island, Rajasthan, Haryana, Jharkhand, Gujarat and Kashmir with direct intervention for the children, youth and women in the need of care and protection through 38 Shelters /Children Homes, Helplines for Children/Women, crisis intervention centres besides other programs, namely emergency helpline number for distressed children, education, nutrition, health services, vocational training and life skill program.
Prayas Response to COVID-19 in 2020
Since March 2020, Prayas is into the services of the distressed people including children in need of care & protection (CNCP), homeless, migrant & domestic workers and their families, commercial sex workers, and transgenders, severally affected by COVID-19 through its various initiatives, namely, cooked meal, family rations, essential medicines, sanitary pads, PPE Kit, face masks, sanitizers, dettol soaps etc

Prayas Health Service & Isolation Centre:
To provide support services to the children and homeless people infected with COVID-19, Prayas set up 'Isolation Centres' at Geeta Colony, (East Delhi), Tughlaqbad (South Delhi), Jahangirpuri (North Delhi) and Chota Bazaar (North East Delhi) and similar Isolation Centres is coming up in Samastipur, Motihari, Bettiah, Patna (Bihar) Jaipur (Rajasthan) and Ranchi (Jharkhand).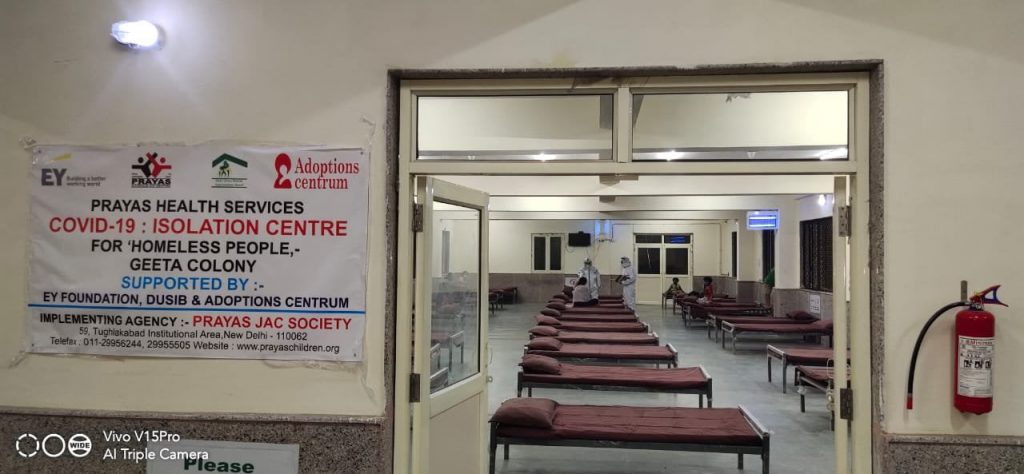 Prayas Isolation Centre: The Isolation Centre is functioning under the supervision of eminent Doctors, namely, Dr. K.S. Sachdeva, Doctorate in Medicine, University of Vienna, Founder of Private Hospital, Gurgaon, Vice President of Prayas JAC Society, Dr. V.K. Rastogi, MHS (Delhi Government), Dr Sumit Verma, Medical Officer, Prayas Health Services, Dr Surbhi, Medical Officer, Prayas Health Services and also through Telemedicine Mode by renowned Cardiologist Dr Rajay Narain, Director Global Health Alliance, St. George Trust, London, Health Ambassador & Policy Advisor U.K & India, based in U.K and Dr Supriyo Mukherjee.
Prayas Health Services associated with Batra Hospital, Mool Chand Hospital, Maulana Azad Hospital, Lok Nayak Jai Prakash Hospital, Babu Jagjeevan Ram Hospital and Chacha Nehru Bal Chikitsalaya, Geeta Colony

IMPACT
Served 0.63 Million Cooked Meal, people affected by COVID-19
Donated Ventilators to Hindu Rao Hospital, Delhi
11,340 Families in Delhi, Bihar, Rajasthan and Gujarat have been provided Family Ration kit on monthly basis for consistent 4 months
Community Health Centre, Primary Health Centre and Quarantine Centre in Lohit and Namsai Districts of Arunachal Pradesh under National Health Mission, GoI
As Joint Coordinator of Standing Committee of NITI Aayog CSOs, accessing 1,10,586 organizations on NITI Aayog Darpan Portal, Prayas emphasized more on the integration of State/District Administration with Civil Society Organizations