While a massive second wave of Covid-19 sweeping through India but the same time a team of youths quietly giving us courage, hope and helping to fight against the lethal virus. Young turks has set up a Covid Resource repository  https://covid-seva.org to give real time info on medical facilities and help covid patients in Different cities of India.  The team lunched on April 20 already has 20 volunteers from Different cities.
The team was formed by by Vaibhav Jha from Hubballi and two of his friends Vedant Chandaka from Mumbai and Aman Kaushal from Delhi. Vaibhav and Vedant is student of RV College of Engineering Bengaluru while Kaushal is a BSc student at Delhi University. Jha said the online platform is updated with real time information using AI  chatbot. We swung into action after seeing hundred of unverified numbers, most of them defunct, doing rounds on social media.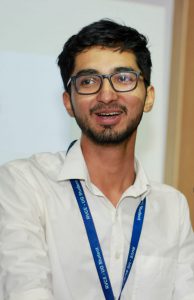 (Vaibhav Jha-Founder)
Also there have been multiple reports on people struggling to get timely medical help. On this platform anyone can give leads and other can say if they are wrong or inactive" he said.
Chandak said the repository has details on availability of bed with/without oxygen/ventilator data on blood donors and helplines "Now we are getting late from many cities from volunteers and visitors. Volunteers verify and post the information in real time. We are posting live details on Twitter with 400 users and on Instagram with 600 account daily. The updated information stage for 4-5 hours. Volunteer updated information in 45 minutes on an average," he said.
Kaushal said if live leads do not get updated, one can reach out to volunteers on the links provided. "We are adding more cities following request from across India. Our volunteers are Medical and engineering students who has who have attended the Covid patients. They are the backbone of our initiative," he added.
The initiatives of these youths proving that when the young mind informed and empowered and when they realize that what they do makes a difference, can indeed change our world.