Follow principles of justice even in the absence of rules: HC
Government bodies must issue show cause notices to non-governmental organisations (NGOs) before blacklisting them and follow principles of natural justice even if the rules do not provide for issuing such notices, the Madras High Court Bench has said.
Allowing a writ petition filed by Community Action for Rural Development (CARD) based in Pudukottai district, Justice V.M. Velumani said that blacklisting was a serious issue involving civil consequences and therefore it could not be done without issuance of a show cause notice.
CARD had challenged an order passed by the General Manager of Rashtriya Mahila Kosh, a society established by Union Ministry of Women and Child Development for providing micro credit to poor women.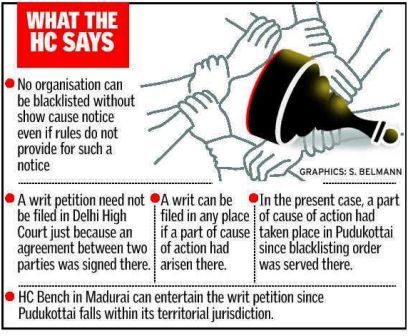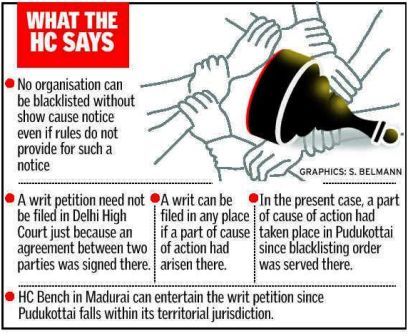 The order passed on April 24, 2010 had blacklisted the NGO for failing to repay funds granted to it. In his affidavit, the NGO's chief functionary P. Vedachalam contended that his organisation had entered into an agreement with RMK in September 2006 for distribution of credit to poor women.
Accordingly, it received Rs.60 lakh under revolving fund scheme and Rs.22.5 lakh under housing loan scheme. The NGO disbursed the money by way of credit to members of self-help groups but found it difficult to get the loans repaid by them.  Hence, it decided to stop the lending activity and refunded up to Rs.70.34 lakh to RMK.
Yet, the organisation was blacklisted and hence the present case. Pointing out that the agreement between the petitioner and RMK states that borrowing NGOs could be blacklisted if they defaulted on payment of installments for more than six months without a valid reason, the judge said that it was unfair to blacklist the petitioner-NGO which had paid Rs.4 lakh on April 9, 2010.
Ms. Justice Velumani also rejected the contention of RMK that the writ petition should have been filed only in the High Court of Delhi since the agreement was signed there. She said a part of cause of action had arisen within the jurisdiction of Madras High Court Bench here since the blacklisting order was served on the petitioner-organisation at its Pudukottai address and therefore the writ petition filed here was very much maintainable under law.
Source: The Hindu Newspaper (05/04/2015)